Immunooncology Market is set to witness a CAGR of 16.5% between 2016 and 2025
3 min read
Immunotherapies are the next generation in the fight against cancer, showing considerable effectiveness and lesser toxicity as compared to traditional therapy
The next generation of drugs to treat cancer involves stimulating a person's own immune system to selectively attack cancer cells while keeping normal cells unaffected, or delivering certain immune system components in order to inhibit the spread of cancer effectively. One of the hallmarks of certain types of cancers is the suppression of the body's immune system, rendering it unable to fight the disease. These therapies have shown great promise in several clinical trials as well as in patients currently being treated. Among various immunotherapies used in cancer treatment, the most widely used are immune checkpoint inhibitors, which currently account for over 88% of the global immuno-oncology market. The market share for immune checkpoint inhibitors is likely to reach well over 90% in the coming years, owing to their first-to-market status. Most of the currently approved immunotherapies are being used in the treatment of melanoma. However, lung cancer is the fastest growing segment by therapeutic indication.
Companies are investigating several combination approaches involving immunotherapies in clinical trials
In addition to gaining regulatory approval for various immuno-oncology drugs as stand-alone targeted therapy, companies developing these are also seeking to use them in combination with existing antibody therapy or a combination of multiple immunotherapies. For example, Bristol-Myers Squibb has obtained regulatory clearance to use the Opdivo + Yervoy regimen in multiple markets for the treatment of melanoma. In addition, numerous drug candidates are part of various clinical studies, and the ratio of new drug approvals for immunotherapy-based treatment as compared to standard treatment has consistently increased in the last five years. Another factor driving the growth of this market is the accelerated approval process being granted by various regulatory agencies, such as fast track and breakthrough designations.
Request for Sample Report : https://www.persistencemarketresearch.com/samples/11329
Precision medicine initiatives to identify suitable patient population through the use of companion diagnostic devices
Biomarkers and pharmacogenomics studies are used to identify patients who are likely to respond well from immunotherapy-based treatments in order to maximize benefits such as increased response, progression-free and overall survival, as well as decreased toxicity. The ability to select these patients from a wider pool has resulted in a higher rate of adoption for these therapies, thereby leading to an optimistic growth scenario for the overall immuno-oncology market across the globe.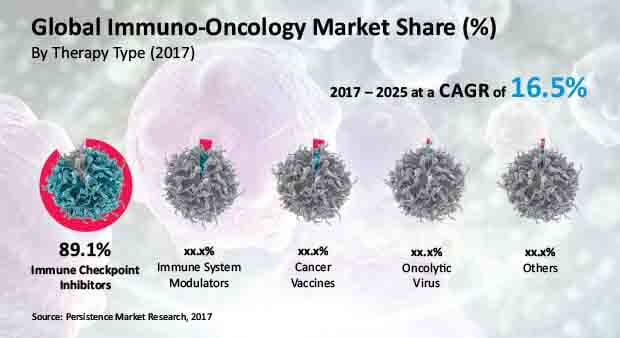 Use of novel immunotherapies in the treatment of melanoma and other advanced cancers
Skin cancer is one of the most common types of cancers, and melanoma of the skin accounts for about 1% of all skin cancers and is responsible for a majority of resulting deaths. The American Cancer Society estimates that over 87,000 new cases of melanoma will be diagnosed in 2017 in the United States alone. The first immune checkpoint inhibitor to be approved by the FDA was Ipilimumab (Yervoy) in 2011 for the treatment of unresectable or metastatic melanoma. Most companies have been successful in obtaining regulatory approval for the use of immuno-oncology drugs for the treatment of melanoma because of the excellent clinical response of these classes of drugs against melanoma. According to literature, melanomas have the highest frequency of mutations compared to different types of cancers, which makes it an excellent target for immunotherapies. After the approval of Yervoy, several other candidates have also been used in the treatment of melanoma, which has led to melanoma accounting for the largest share of the global immuno-oncology market in terms of revenue in 2016. As biomarkers are identified in the regulation of other cancers, it is expected that developers of these new drugs will seek regulatory approval for multiple indications. Considering that one of the leading causes of cancer-related deaths in the world is due to lung cancer, it is anticipated that the revenue attributed to this indication will be one of the fastest growing at a CAGR of 18.6% over the forecast period.
Request for methodology : https://www.persistencemarketresearch.com/methodology/11329