Feasibility to Access Patients Remotely has Boosted Demand for Telemedicine
3 min read
New York, July 19, 2019 – Increasing adoption of advanced technologies is expected to offer lucrative growth opportunity in the global telemedicine market in the near future. Telemedicine provide several clinical and population health benefits at a reduced cost. Moreover, rising shit towards private healthcare providers from government facilities is also expected to bring a significant change in the global telemedicine market. It has been projected that elderly care is four times as expensive as compared to younger, and the aging population consumes between 40% and 50% of the healthcare resources.
Telemedicine providers are extensively investing in expansion, collaboration, partnership, and mergers to gain a large share in the global telemedicine market. Recently, MédecinDirectto was acquired by Teledoc Health to strengthen its international expansion plans. Another example is of Doctolib (a French appointment booking and telemedicine service company) has recently raised nearly US$170 million in new funding. Various other players in the market are also using similar strategies to fortify their position in the market.
Moreover, adoption of advanced technologies is also seen at a high rate. For example, Koninklijke Philips N.V. introduced the tele ICU enterprise software in 2017 at American Telemedicine Association's annual meeting. Use of this latest advanced technology has brought huge success for the company especially in population health management for critical care unit.
Request for sample report: https://www.persistencemarketresearch.com/samples/2818
With increasing use of advanced technology in healthcare sector and increasing demand for home healthcare facilities, the global telemedicine market is expected to witness high revenue growth of nearly US$ 38 Bn by the end of 2029. Over the period of ten years from 2019 to 2029, the global telemedicine market is expected to rise at steady 17% CAGR.  
Increasing Popularity of Homecare Setting to Stoke Up Demand in the Telemedicine Market
Telemedicine is used hospital/clinics and in home, among these two the demand for telemedicine is highest in homecare setting. Telemedicine for homecare is highly beneficial for patients suffering from chronic diseases. Telemedicine for homecare helps in monitoring patient and provide information by using latest technology in telecommunication. Several countries have started telemedicine for homecare by initiating various programs such as, veterans health segmentation (VHA) project in the U.S., whole system demonstrator (WSD) project in the U.K., and TELEKART program in Denmark. These programs help in reducing, managing, and avoiding chronic diseases by remote monitoring of patients. Various universities are also using telemedicine for homecare to increase the reach of these monitoring offers.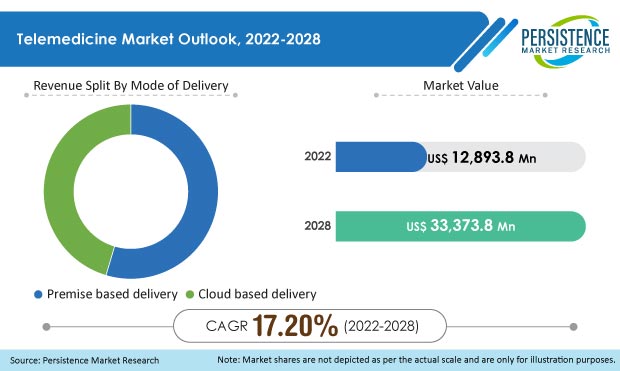 Ease of Providing Healthcare Solution Remotely
Telemedicine is highly beneficial in the healthcare sector, as it helps in providing health solutions remotely for patients post treatment of chronic illnesses. Teleconference or telecommunication is widely used in telemedicine services mainly for consultation. This also helps medical practitioners to diagnose, analyze, treat and prescribe medicines to the patient. Moreover, growing importance to monitoring remote patients and need to reduce healthcare expenses has increased demand in the global telemedicine market. Increased cases of chronic illnesses and telemedicine advancement in technology are few other key factors driving demand in the global telemedicine market.  but there are few factors that need to be kept in mind such as poor cases of telemedicine implementation, requirement of high initial capital, lack of skilled labor that are likely to hamper the growth in this market. Inappropriate reimbursement policies are also projected to obstruct seamless growth of telemedicine.
Request for Methodology : https://www.persistencemarketresearch.com/methodology/2818
The study presented here is based on a report by Persistence Market Research (PMR) titled " Telemedicine Market (Service type – Real-time telemedicine and Remote Patient Monitoring; End User – Hospitals & Clinics and Homecare Settings; Mode of Delivery – Cloud based delivery and Premise based delivery) – Global Industry Analysis, Size, Share, Growth, Trends, and Forecast 2019 – 2029". 
The global telemedicine market:
Region 
North America

Western Europe

Eastern Europe

Japan

Asia Pacific (excluding Japan)

Middle East and Africa